MELTours offers an array of different tours for students depending on the curriculum. If you would like to book or receive a quote for a school tour please fill in the form at the foot of this page.
City Discovery Tour
This is the perfect tour to be included as part of a "City Orientation" program. Students will see and learn about Melbourne's unique laneway culture, street art, hidden shops and the history of some of the significant buildings and arcades. The City Discovery tour runs for 45mins-1.5 hours maximum, commencing at 10am or 1pm Monday to Sunday or by prior arrangement.
We are also able to conclude the tour with a lunch and drink option for $15per person. Lunch is a choice of delicious baguette and water/ juice/ soft drink / hot drink. Kindly offered by our friends at Mr. Tulk!
Flinders Street Station Tour
Melbourne's most iconic building is synonymous with the city's culture and history – from the stunning architecture to the every-day transport logistics. Let Meltours help your students understand what this station means to Melbourne. The Flinders Street Station tour runs for 45 mins to 1.5 hours at 10.30am or 1pm Mondays, Tuesdays, Thursdays and Fridays or by prior arrangement.
Architecture Tour
The Architecture Tour offers students an insight into the great diversity of architectural styles in this city from Gothic to modern, sustainable and cutting-edge buildings. The student architecture tour runs for 1 – 1.5 hours at 10.30am or 1pm on Mondays, Tuesdays, Thursdays and Fridays or by prior arrangement.
Art Tour
The Art Tour enables your students to discover and explore Melbourne's famous art scene. From small laneway galleries displaying local and international artists showcasing works from the contemporary to the extraordinary to impressive public/private art works. Students will also learn about Melbourne's exciting street art culture that has gained an international reputation and see some fabulous examples of this cutting edge art form. The art tour runs Tuesdays to Saturdays at 2pm or by prior arrangement.
Customised Tours
If we don't have the tour you are after we are happy to customise a tour that would benefit your students learning. Please email us with examples of what you'd like the students to learn/see and we will put a tour together.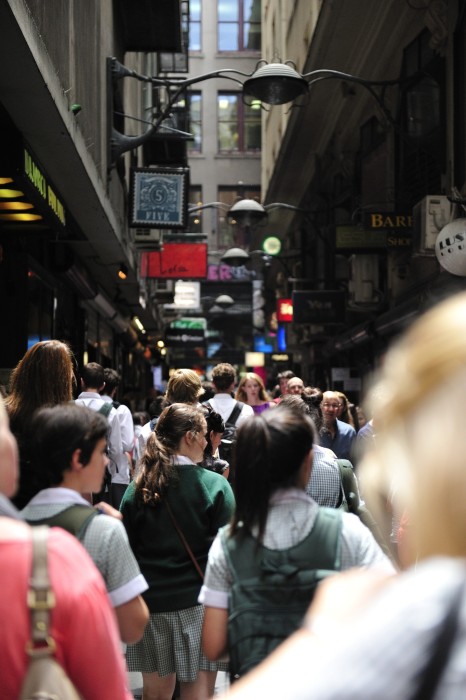 Kindergarten and Primary Students – $15 per student
Secondary students – $15 per Student
Secondary students Art tour– $18 per student
Tertiary students – $20 per student
Tertiary students Art tour– $25 per student
Teachers and helpers free of charge.
* Please note prices do not include GST. GST will be calculated upon invoice sent.
House Keeping
All guides are First Aid Level 2 qualified but please notify us if students have any outstanding health issues. Controlled pedestrian crossings are used at all times except when crossing small laneways to ensure the students conclude the tour safely.
Please arrive 10 minutes early at the arranged start point to ensure the tour starts on time. Suitable footwear is recommended for all attendees.
MELTours requests two mobile contact numbers for teachers/and or helper in case of any last minute issues