Hidden Bar Tour
of Melbourne
Come with one of our experienced guides on a Thursday, Friday or Saturday night and taste a great cocktail in one of Melbourne's hidden bars. Many of the best bars in the city of Melbourne are easily overlooked if you don't already know where they are! A plain doorway could lead to a venue with a great vibe and wonderful drinks. Let MELTours show you what many people often walk past.
Discover the hidden bar culture with one of our experienced guides as we visit a number of venues around the City Centre where you will be treated to 2 complimentary, fabulous cocktails. During the course of the evening we will visit up to 10-15 bars with our guides usually selecting venues during the tour depending on the group. Groups are a specialty – the more the merrier, we can show your members, employees or friends a side of Melbourne that many miss – with the best size being 6 where we have access to all of the city center venues.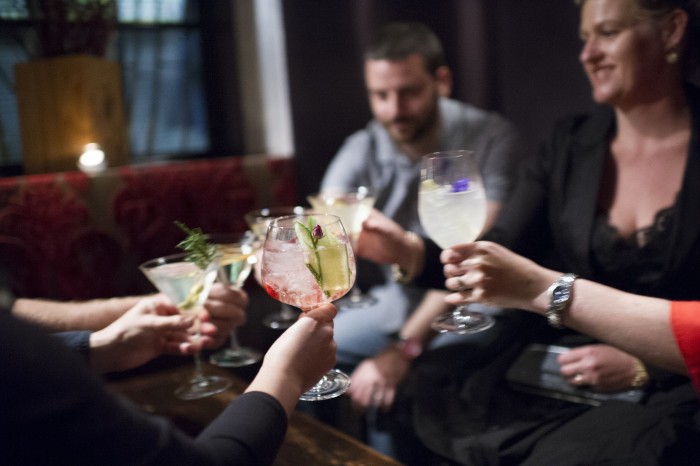 Bar Tours of Melbourne
When – 7pm Thursday, Friday and Saturday nights or by prior arrangement
Starting Place – Outside the Strandbag Store on the corner of Bourke and Swanston Streets
Duration – 3.5 hours (approx.)
Please Note: excessive alcohol consumption is discouraged and we reserve the right to terminate the activity for those who become intoxicated while on tour. As well as retaining our Liability Insurance, we want you to remember ALL the bars we visit!
All guides are First Aid Level 2 qualified but please notify us if you have any outstanding health issues. Many flights of stairs are involved to access many of the city bars so a good level of fitness is required.
Controlled pedestrian crossings are used at all times except when crossing small laneways where we make your safety a priority.
Please arrive 5 minutes early to ensure the tour starts on time. This tour does include approximately a minimum 4 blocks of walking and many flights of stairs, please wear comfortable shoes for the evening.